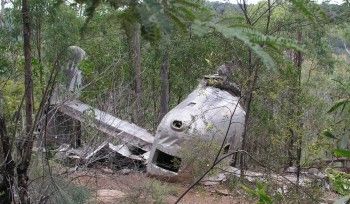 Country Queensland is such a wonderful place. If you've already been taking advantage of outdoor adventures in the region, you know what we're talking about! It's a really special aspect of life in regional Australia and one we enjoy here in Biloela. We're lucky enough to be within striking distance of so many wild and beautiful places. Read on to discover some of the national parks and camping spots near Biloela, where you can hike, fish or simply relax.
Kroombit Tops
Kroombit Tops isn't a particularly well-known national park, which is quite surprising once you've experienced the scenery. The views are simply spectacular, and there are quiet bush campsites, abundant wildlife, waterfalls and towering cliffs. An interesting highlight of the park is the wreck of Beautiful Betsy, an American Liberator bomber which crashed in 1945. Be sure to do your research before setting off – much of the park is only accessible by 4WD and campers must be fully self-sufficient. Check out Kroombit's Farmstay Experience for a different approach to the region.
Cania Gorge National Park
Cania Gorge is just over an hour's drive southeast of Biloela. Take the Burnett Highway south toward Monto for 80km, then make a left turn to head back north on Cania Dam Road until you reach Cania Gorge. The national park is known for its 70m+ sandstone walls, ancient aboriginal rock art and lots of particularly cute Aussie wildlife – tame bettongs are seen nightly in the campgrounds, and you can spot rock wallabies and platypus on short hikes. Most of the walks (ranging from 1 – 6km) start from the picnic area and all are suitable for kids if they're reasonably fit. We recommend the 5.6km Giant's Chair Lookout for dramatic views. If you'd like to make a weekend of it, try Cania Gorge Caravan & Tourist Park, Big 4 Cania Gorge, or the Cania Gorge Tourist Retreat.
Mt Scoria Conservation Park
About 17km from Biloela, near Thangool, Mt Scoria is traditional Gangulu country. The mountain is striking due to its distinctive basalt column formations. There is a picnic and day use area, as well as a nice walk with information signage about the area's geology, wildlife, history and indigenous significance as well as great views of Mt Scoria. Climbing the mountain itself is discouraged. The RACQ have published a useful info sheet.
Living in a small regional centre like Biloela means we have access to a fantastic rural lifestyle for families, singles and retirees alike. There are lots of adventures in store for those willing to explore the region. If you'd like to call our community home and would like information on buying, renting or selling property in Biloela, come and see our friendly and professional team here at Ray White Rural Biloela.