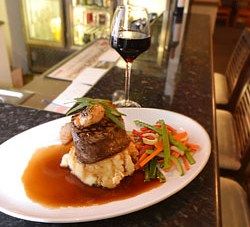 There are lots of great places to eat out in Biloela and the surrounding towns. It's a real treat to live in a lovely rural community with such a good range of cozy cafes, restaurants and lively local pubs. Read on for the lowdown on some of our favourite places to eat, drink and be merry!
Rise The Bakehouse
Rise is absolutely buzzing on the weekends, and for good reason. These bakers really know their stuff, with all the usual suspects (sticky buns, fresh rolls etc) on offer, plus an ever-changing array of special treats – black forest cupcakes, gourmet carrot cake and freshly ground Genovese coffee just to name a few. You can't go past the classic big brekkie at just $10 for eggs, bacon, hashbrowns, grilled tomato and toast. Rise The Bakehouse is open seven days a week at 25 Dawson Highway. Follow them on Facebook to find out what's baking today.
Dragon Garden Chinese Restaurant
Dragon Garden is a popular family Chinese joint on Bell Street, offering up an extensive a la carte menu as well as a dinner buffet and takeaway menu on Thursday, Friday and Saturday nights. The food here is authentic, consistent and great value for money.
Fat Dog Cafe
A short drive west from Biloela you'll find the Fat Dog Cafe on Young St in Moura. This place is the go-to for fresh, delicious pizza as well as breakfasts, burgers, homemade sweet treats and better-than-average coffee. The cafe is kids-friendly, there's free wifi and shady outdoor seating. Fat Dog Cafe is open 7 days a week from 7:30am to 8pm.
Grevillea Steakhouse and Bar
The perfectly cooked steaks at Grevillea Steakhouse are all sourced locally or from Rockhampton – Australia's beef capital. Fantastic food, warm and professional service and lovely Queensland seafood are a great accompaniment to your 'Bilo Kilo' – or 'Bilo 2-Kilo' if you're not there to enjoy your delicious steak but are more interested in the challenge of consuming a piece of premium grassfed beef the size of your own head. The Grevillea is located inside the Biloela Centre Motel – check out the menu here.
Hotel Settlers
Settlers is about 1km from the centre of Biloela on the Dawson Highway. There's plenty of accommodation here (rooms and cabins) for those passing through, as well as a gaming lounge with TAB and pokies, Friday night disco and occasional live bands. The Settlers Bistro is open for breakfast, lunch and dinner.
Whether you're looking for a new Saturday night dinner spot or just want to relax over coffee and cake, the restaurants, pubs and cafés in the Biloela area have something for everyone. We've listed just a few of our favourites here, but there are lots of other friendly local eateries in the region – get out there, and explore! If you're looking to buy, rent or sell property in the Biloela region, drop into Ray White Rural Biloela to meet the team and find out what else this wonderful area has to offer.